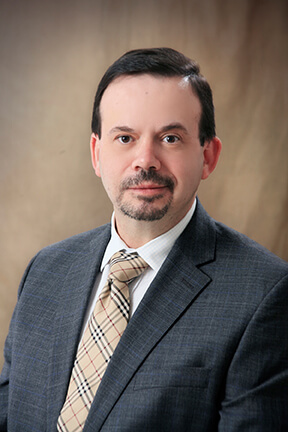 Dr. Ramiro Pérez attended medical school at the University of Guadalajara School of Medicine in Guadalajara México. Dr. Pérez performed his Neurosurgery training in Centro Medico Siglo XXI IMSS and has been practicing this medical specialty for more than 13 years. He completed a three years clinical fellowship in Functional Neurosurgery at Wayne State University in Detroit Michigan; he also performed a fellowship in Minimal Invasive Spine Surgery at Providence Hospital in Southfield Michigan. Dr. Perez is licensed to practice Neurosurgery in Michigan State. He is a member of several associations including the Congress of Neurological Surgeons, American Association of Neurological Surgeons, Mexican Council of Neurosurgery and many others.
He has participated as a contributor in many international Spine and Neurosurgery textbooks and has published articles in different Neurosurgery journals. Dr. Perez frequently is invited to join as speaker in international Neurosurgery meetings.
MEDICAL SPECIALTY: Neurosurgery
FELLOWSHIP: Functional Neurosurgery, Wayne State University, Detroit Michigan. 1998-2001.MEDICAL EDUCATION
MEDICAL EDUCATION
Medical School: Facultad de Medicina, Universidad de Guadalajara, Guadalajara Mexico.
Neurosurgery residency: Centro Medico Nacional Siglo XXI, Mexico City. 1994-1999.
AFFILIATIONS
Congress of neurological Surgeons, Mexican Society of Neurosurgery, Mexican Society of Stereotactic Neurosurgery.
PUBLICATIONS
BOOK CHAPTERS
1.-Zamorano L. Pérez de la Torre R. Li Q. Stereotactic volumetric resection of gliomas. Neurosurgical Operative Atlas Volume 9:113-122. American Association of Neurological Surgeons 2000. 2.-Zamorano L. Pérez de la Torre R. Stereotactic surgery with ZD frame (Zamorano-Dujovny) Stereotactic handbook. Stereotactic handbook. Marcel Dekker. Pp 35-45,2000 3.-Zamorano L. Pérez de la Torre R. Movement disorders surgery with ZD (Zamorano-Dujovny) system. Schulder M. Stereotactic handbook. Marcel Dekker. Pp 363-371, 2000
4.-Sloan A. Pérez- de la Torre R. Díaz F. Stereotactic resection of brain metastases Neurosurgical Operative Atlas. Volume 9: 155-164.American Association of Neurological Surgeons. 2000 5.-Zamorano L. Pérez de la Torre R. Image guided surgery/Minimum access Craniotomy in Gliomas. Neurooncology Workshop. 6.-Pérez de la Torre R. Guzmán Valbuena J. Gordon V. Díaz F. Hemorragia subaracnoidea: Diagnóstico y Tratamiento. Texto en Enfermedad cerebrovascular. Editorial Manual Moderno. México, D.F. 2003. Pp 499-513.
7.- Pituitary macroadenomas : transcranial approach . Gerardo Guinto, Fabrizio Cohn, Ramiro Perez-de la Torre, Mauricio Gallardo . Atlas of Neurosurgical Techniques: Brain by Sekhar, Laligam N. MD and Fessler Richard G. Thieme Publications. 8.-Pituitary macroadenomas : transsphenoidal approach Gerardo Guinto, Fabrizio Cohn, Ramiro Perez-de la Torre, Mauricio Gallardo . Atlas of Neurosurgical Techniques: Brain by Sekhar, Laligam N. MD Fessler Richard G. Thieme Publications. 9.-Mick Perez-Cruet and Ramiro Perez de la Torre in Spine Surgery and Essential Equipment. Outpatient Surgery . pp 7-10, Herrin Publishing Partners, November 2007
10.-Manejo quirurgico de la enfermedad de Parkinson mediante métodos ablativos. . En León-Flores L. Cuevas-García C., editors. Enfermedad de Parkinson, perspectivas actuales y futuras. Ciudad de México, México: Planeación y desarrollo editorial, 2007: 247-254
11.-Manejo futuro de la enfermedad de Parkinson. . En León-Flores L. Cuevas-García C., editors. Enfermedad de Parkinson, perspectivas actuales y futuras. Ciudad de México, México: Planeación y desarrollo editorial, 2007: 256-261
12.-Percutaneous pedicle screw placement for spinal instrumentation. Sheikh H. Perez de la Torre Ramiro, Didyuk Oksana, Tejwani Vickran, Perez-Cruet Mick. In Minimally invasive spine surgery: a practical guide to anatomy and techniques. Textbook in Burak Ozgur, Benzel Edward, Graf Steven Springer, New York. 2009, pp 149-158
13.-. Surgical management of Parkinson´s disease. Perez de la Torre R. Dorantes Argandar A Contemporary neurosurgery. January 2011.
14.-Instrumentation options. Ajay Popli, Ramiro Antonio Perez de la Torre, Larry Teik-Man Khoo, Mick Perez-Cruet. In Minimally invasive spine fusion. Techniques and operative nuances. Mick Perez-Cruet, Rudolf Beisse, Luiz Pimenta, Daniel H. Kim. Quality Medical Publishing, San Louis, MO 2011, 177-194.
15.-Fluoroscopic techniques for percutaneous pedicle screw placement. Ramiro Antonio Perez de la Torre, Hormoz Sheikh, Oksana Didyuk, Mick Perez-Cruet. In Minimally invasive spine fusion. Techniques and operative nuances. Mick Perez-Cruet, Rudolf Beisse, Luiz Pimenta, Daniel H. Kim. Quality Medical Publishing, San Louis, MO 2011, pp 297-317.
16.-Decompression, transforaminal lumbar interbody fusion, reduction and percutaneous pedicle screw fixation. Ramiro Antonio Perez de la Torre, Prashant S. Khelkar, Alexandra Beier, Ajay Popli, Richard Smith, Hormoz Sheikh, Mick Perez-Cruet. In Minimally invasive spine fusion. Techniques and operative nuances. Mick Perez-Cruet, Rudolf Beisse, Luiz Pimenta, Daniel H. Kim. Quality Medical Publishing, San Louis, MO 2011, pp 345-368.
17.-Case studies in minimally invasive spine fusion. Ajay Popli, Ramiro Antonio Perez de la Torre, Girish K. Hiremath, Mick Perez-Cruet. In Minimally invasive spine fusion. Techniques and operative nuances. Mick Perez-Cruet, Rudolf Beisse, Luiz Pimenta, Daniel H. Kim. Quality Medical Publishing, San Louis, MO 2011, pp 521-548
18.-Complication avoidance. Ramiro Antonio Perez de la Torre, Noel I. Perin, Kristophe J. Karami, Ajay Popli, Girish K. Hiremath, Mick Perez-Cruet. In Minimally invasive spine fusion. Techniques and operative nuances. Mick Perez-Cruet, Rudolf Beisse, Luiz Pimenta, Daniel H. Kim. Quality Medical Publishing, San Louis, MO 2011, pp- 707-731.
19.-Spine therapies of the future. Ramiro Antonio Perez de la Torre, Vikas Mehta, Vickram Tejwani, Mick Perez-Cruet. In Minimally invasive spine fusion. Techniques and operative nuances. Mick Perez-Cruet, Rudolf Beisse, Luiz Pimenta, Daniel H. Kim. Quality Medical Publishing, San Louis, MO 2011, pp 747-761.
20.-Surgical management or Parkinson´s disease. Contemporary Neurosurgery 2011
JOURNALS
1.- Li Q. Zamorano L. Jiang Z. Gong J. Pandya A. Pérez R. Díaz F. Effect of optical digitizer selection on the application accuracy of a surgical localization system-A Quantitative comparison between the OPTOTRAK and Flash Point Trackins Systems. Computer Aided Surgery 4:314-321, 1999.
2.- Li QH. Zamorano L Pandya A. Pérez R. Gong J. Díaz F. The application accuracy of the Neuro Mate robot-A quantitative comparison with frameless and frame based surgical localization systems. Comput Aided Surg 7: 90-98, 2002
3.- Hormoz Sheikh, MD, Ramiro Perez de la Torre, MD, Dino Samartzis, DSc, MSc, Dip EBHC, Boyd Richards, DO, Oksana Didyuk, BA, Jason Dreyer, MHA, BA, Mick J. Perez-Cruet, MD, MSc. Conformable Lumbar Interbody Device (Optimesh). Neurosurgery Focus in Journal of Neurosurgery . August 2008
4.- Sheikh H, Zakharian K, De La Torre RP, Facek C, Vasquez A, Chaudhry GR, Svinarich D, Perez-Cruet MJ. In vivo intervertebral disc regeneration using stem cell-derived chondroprogenitors. J Neurosurg Spine. 2009 Mar;10(3):265-72.
5.- R. De La Torre, K. Mishkoor, J. Chabot, M. Perez-Cruet
Minimally Invasive Transforaminal Lumbar Interbody Fusion and Percutaneous Pedicle Screw Fixation Long-term Outcomes
The Spine Journal, Volume 8, Issue 5, Pages 146S-147S